Chalumeau & Touroult

Chalumeau & Touroult 2005

Les Longicornes des Petites Antilles (Cerambycidae). Taxonomie, Éthologie, Biogéographie.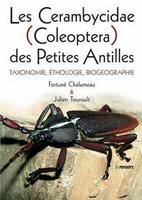 Sonderangebot Ausstellungsexemplar, statt 83,- €
241 pp., 58 Farbfotos und 132 auf Tafeln abgebildete Arten. 5 Karten, illustrierte Bestimmungsschlüssel, Literatur, Index. In Französisch, Schlüssel und Summary engl
This monograph on the longhorn beetles of the Lesser West Indies (Anguilla to Grenada) and Virgin Islands is the first regional synthesis covering all known species, including those described by the authors. The first part deals with such generalities like habitats and biogeography, phenology, previous studies and methods. The second part represents a monography of the 135 species involved, all keyed, with type locality, taxonomic remarks, diagnosis, variability, distribution, and biology. Most data on the species' distribution and biology, especially host plants relationships, are original. Most of the species have never been illustrated in colour so far.