Danilevsky M (ad.)
Danilevsky M (ad.) 2020

Catalogue of Palaearctic Coleoptera Vol. 6/1: Chrysomeloidea I (Vesperidae, Disteniidae, Cerambycidae). Updated and Revised Second Edition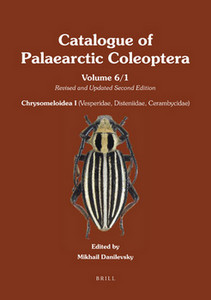 Bandherausgeber: Mikhail Danilevsky
The aim of Catalogue of Palaearctic Coleoptera is to provide a tool that addresses the most urgent needs:
The present updated and revised Catalogue is a collective international work by 12 authors from Austria, Belgium, China, Korea, Japan and Russia. It includes about 6453 species names of 913 genera. The general structure and the taxonomic, distributional and bibliographical information of the first edition of the Catalogue are followed with minor changes.