Golovatch, Makarova, Babenko & Penev
Golovatch, Makarova, Babenko & Penev 2009

Species and Communities in Extreme Environments.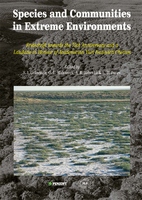 Festschrift towards the 75th Anniversary and a Laudatio in Honour of Academician Yuri Ivanovich Chernov, collection of 21 papers, biography and bibliography of Chernov, English, hardcover, 550 p.
The volume contains review papers on yeast, myxomicetes, soil microfungi, mosses, higher plants, nematodes, oribatid mites, millipedes, spiders, collembolans, ants, beetles, butterflies, and birds. The book is addressed to botanists and zoologists, ecologists, biogeographers and anyone interested in the nature of the polar and adjacent regions.