Grozeva & Simov (eds)
Grozeva & Simov (eds) 2008

Advances in Heteroptera Research. Festschrift in Honor of 80th Anniversary of Michail Josifov.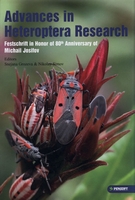 32 papers, numerous graphs, photos, drawings, hardcover. The 32 articles, written by 49 authors, present new data on the origin, zoogeography and species composition of heteropteran fauna from different parts of all continents.