Hurka K

Hurka K 2005

Brouci Ceské a Slovenské republiky. Beetles of the Czech and Slovak Republics.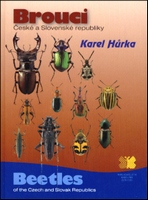 70 colourplates, 390pp. in czech and english. The book contains colour illustrations of more than 1,000 species of beetles representing all families and subfamilies occurring in the Czech and Slovak Republics. The families, subfamilies and significant genera are briefly characterised, and their typical and interesting Central European members are introduced. The information given for each species includes a short description, life history, habitat, abundance, distribution and relation to humans.
Hurka K 1996

Carabidae of the Czech and Slovak republics.
565 S., 16 Farbtaf. mit 200 Abb., 715 Strichzeichn. Text englisch und tschechisch