Krassilov & Rasnitsyn (eds)

Krassilov & Rasnitsyn (eds) 2008

Plant-Arthropod Interactions in the Early Angiosperm History Evidence from the Cretaceous of Israel.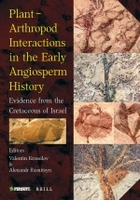 Sonderpreis Ausverkauf, statt 119 €, Ausstellungsexemplar, evtl mit leichten Kratzern auf Umschlag
222 pp. incl. 52 color plates, hardback, in English.
Paleontologists just recently opened their eyes to the wealth of fossil documents relevant to plant - arthropod interaction and are busy now accumulating raw data. Perhaps the richest regional collection of interaction traces came from the mid-Cretaceous deposits of the Negev Desert, Israel, encompassing the time interval of the rise and basal radiation of angiosperms - the flowering plants.