Patocka & Turcani
Patocka & Turcani 2005

Lepidoptera Pupae. Central European Species.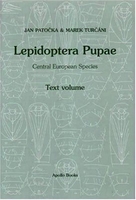 Hardback, 863 pages in two volumes incl. 271 plates with more than 8000 line drawings. This outstanding work is a manual that enables one to identify pupae, or empty pupal skins, of about two thirds (some 2,600 species) of the Central European Lepidoptera. The text part of about 560 pages comprises a short introduction, identification keys, and species-for species accounts including succinct descriptions of pupal morphology as well as information about habitats, life-style and food plants. The illustration part consists of 271 plates including more than 8,000 line drawings of the treated pupae and/or structural details pertinent for their identification. Lepidoptera Pupae of Central Europe should be useful for anyone with a primary interest in Central European Lepidoptera.