Schintlmeister A

Schintlmeister A 2008

Palearctic Macrolepidoptera, Vol. 1: Notodontidae.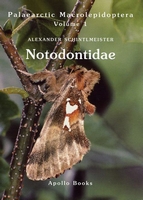 Sonderangebot, statt 191,- € 482 pp. incl. 40 high quality colour plates. 2046 black and white figures (maps and genitalia)
This volume is by the leading authority on these beautiful moths. The book is the first comprehensive work on Palaearctic Notodontidae since the famous Seitz work of nearly a century ago. In Seitz (including the supplement) 211 species were known - the present book covers in detail each of the not less than 716 species and their subspecies known from the Palaearctic Region. All species are illustrated on 40 plates in both sexes with a total number of 2109 specimens.
This first Volume in the series has distribution maps of each species on which non-palaearctic distribution is also shown and genitalia photos of the male and female are provided, together more than 2200 illustrations. The book contains descriptions of 59 new notodontid taxa, reports 44 new synonymies and gives 17 changes of status. The book also has chapters on Classification, Biogeography and biographical notes on selected Entomologists.

Schintlmeister A 2013

World Catalogue of Insects Vol. 11: Notodontidae & Oenosandridae (Lepidoptera).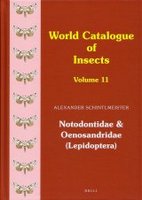 608 pp., hardback. This 11th volume in the World Catalogue of Insects comprises 4415 species in 532 genera of Notodontidae & Oenosandridae (Lepidoptera), which is about 1000 species more than ever before provided in any catalogue. Altogether 7434 names of taxonomic entities are included. 27 cases of new synonymies on genus level and 72 new synonymies on species group level are reported and 15 statuses of taxa are changed. One Neotype and 24 Lectotypes are designated to stabilize the nomenclature. In line with recognized homonymies 4 replacement names are proposed. The catalogue also includes 107 new combinations of Notodontidae.