Weitschat & Wichard
Weitschat & Wichard 2002

Atlas of Plants and Animals in Baltic Amber.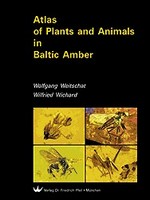 256 pp., 92 color-plates with 594 figures, 31 color and 93 black-and-white figures in the text. 29.0 x 21.7 cm. Hard cover. Beim Verlag vergriffen.
This atlas opens a window onto the world of Baltic amber and the Eocene amber forests. About 650 typical plants and animals are systematically represented in 92 full-page color plates. The detailed text and bibliography allow an up-to-date overview of the taxonomy, paleontology and biology of fossil plants and animals.
This book will not only delight everyone interested in Baltic amber and its fascinating inclusions but also serves as an authoritative reference book to the scientific community.