Wichard, Ahrens & Eisenbeis
Wichard, Ahrens & Eisenbeis 2002

Biological Atlas of Aquatic Insects.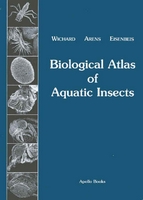 339 S. 148 Taf. Hardcover. Englischer Text. Letzte Exemplare.
This comprehensive work gives a vivid overview of numerous adaptations of aquatic insects to life in an aquatic environment. Besides the habitus, they depict the wealth of morphological structures on the body surfaces. A completely updated and translated edition of the author's famous book 'Atlas zur Biologie der Wasserinsekten'.