Efetov & Tarmann
Efetov & Tarmann 1999

Forester Moths. The genera Theresimima, Rhagades, Jordanita and Adscita (Zygaenidae).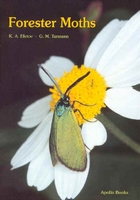 192 S., 12 Farbtafeln, zahlreiche Genitalabb. Format 24 x 17 cm. Hardback. This book is an attempt to summerize all knowledge and enable entomologist to identify all species belonging to these four genera.