Iwan & Löbl (edit.)
Iwan & Löbl (edit.) 2020

Catalogue of Palaearctic Coleoptera Vol. 5.: Tenebrionidea. Revised and Updated Second Edition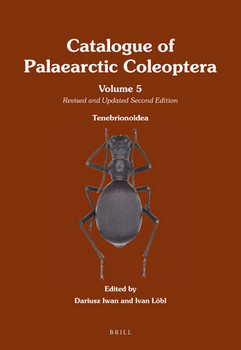 Hardcover. Bandherausgeber: Dariusz Iwan und Ivan Löbl
Volume 5 of the Catalogue of Palaearctic Coleoptera focuses on one of the megadiverse groups of the animal kingdom, the beetle superfamily Tenebrionoidea reported from the Palaearctic biogeographic region. For the genus and species-groups taxa all available names are given and all data relevant to nomenclature are cross-checked and the distribution of species and subspecies is given per country or smaller region. A group of 25 experts have worked to collect data based on a critical review of published sources including a significant amount of new information. This volume also provides a fix to the nomenclature, which warrants unambiguous communication.
Contributors are: Kiyoshi Ando, Maxwell V. L. Barclay, A. Marco A. Bologna, Patrice Bouchard, Yves Bousquet, Ivan A. Chigray, Alain Drumont, V. Leonid Egorov, Jan Horák, Dariusz Iwan, Marcin J. Kaminski, Roman Królik, Daniel Kubisz, Ivan Löbl, Otto Merkl, V. Maxim Nabozhenko, Gianluca Nardi, Nikolay B. Nikitsky, Vladimír Novák, Darren A. Pollock, Wolfgang Schawaller, Rudolf Schuh, Fabien Soldati, Dmitry Telnov, and Daniel K. Young.